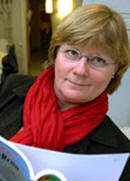 I grew up in a very small town in central Sweden. Back then, only children from poor families were provided with a free school lunch. The rest of us went home to our devoted mothers who had cooked for us. The differences between social groups were therefore made very visible for us children, already from the first grade.
My first serious encounter with nutrition was when I as a 17-year old saw a well known environmentalist wash his shirt in coffee whitener on TV! I remember getting really upset, suddenly understanding that the coffee whitener was made from synthetic ingredients and had never been close to a cow, and my choice of studying nutrition was given.
I do believe that my early encounter with socioeconomic differences between children, even in a welfare state like Sweden, later followed by the sudden revelation that some 'foods' were practically only confections of food additives, has shaped my feeling of a need for more attention to equity issues and also the importance of 'food dignity', meaning food being produced and served with heart as well as brain.
I was recruited to the Karolinska Institutet in 1987 after having worked freelance as a nutritionist for many years. My task was to build the unit for public health nutrition where I still am located. Having taken an MSc in nutrition, I studied public health and got my MPH at the Karolinska Institutet and started to build a training programme in public health nutrition. I defended my PhD thesis in 2005 and was appointed associate professor in 2008, both in medical nutrition at the Karolinska.
It has become very obvious to me that the political system is mostly run by economists and lawyers, with a completely different mindset than nutritionists. In order to make ourselves heard and thereby make a difference in low-income as well as high-income countries, we need to make sure that the next generation of public health nutritionists has a commitment and a drive to change political systems and to produce and implement nutrition action plans. They also need to evaluate and adjust the actions accordingly, in order to change things around and make this world more equal in regards to food, nutrition and health.